Link To Us!
Anti Joke Chicken Meme Generator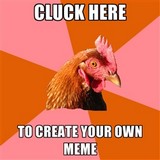 ---
Astrological Signs of the ZodiEgg
(Chicken Horoscopes)
Libra

LIBRA (September 23 to October 22):
Libra chickens are thoughtful and sensitive, and are always seeking balance and harmony. They need the respect and love of other chickens more than any other group. They think carefully before making any decision. Libra chickens are prone to stop in the middle of the road to try to decide which way to go, making the crossing a considerable risk to themselves and others.
AQUARIUS | PISCES | ARIES | TAURUS | GEMINI | CANCER
LEO | VIRGO | LIBRA | SCORPIO | SAGITARIUS | CAPRICORN |
Leaving The Coop?
Take a minute to Tell a Friend! about us.
Why not bookmark this site for future visits?
Just press CTRL+D on your keyboard.
Yokes Of The Month Mailing List
Join Our Mailing List For A Monthly Feed Of Chicken Jokes!
---
Feathered Friends