Link To Us!
Anti Joke Chicken Meme Generator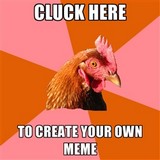 ---
Astrological Signs of the ZodiEgg
(Chicken Horoscopes)
Capricorn

CAPRICORN (December 22 to January 19):
Capricorns are very ambitious and are always striving to reach the top of the coop. They are tenacious in planning every step to achieve their goals, and leave themselves little time to relax before looking for new peaks to climb. They cross because they must to achieve the success they feel should be theirs.
AQUARIUS | PISCES | ARIES | TAURUS | GEMINI | CANCER
LEO | VIRGO | LIBRA | SCORPIO | SAGITARIUS | CAPRICORN |
Leaving The Coop?
Take a minute to Tell a Friend! about us.
Why not bookmark this site for future visits?
Just press CTRL+D on your keyboard.
Yokes Of The Month Mailing List
Join Our Mailing List For A Monthly Feed Of Chicken Jokes!
---
Feathered Friends