Link To Us!
Anti Joke Chicken Meme Generator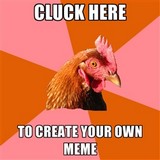 ---
Astrological Signs of the ZodiEgg
(Chicken Horoscopes)
Aquarius

AQUARIUS (January 20 to February 18):
Chickens born under the sign of Aquarius are strong independent spirits longing to break free from traditional conventions and restrictions and the status quo. They are innovative and idealistic always replacing old outdated thinking with fresh perspectives. They are strongly driven to oppose social injustice and oppression. They are always experimenting to discover their own identity. They will cross because it is forbidden to do so and by doing so it will be easier for others to do so in the future.
AQUARIUS | PISCES | ARIES | TAURUS | GEMINI | CANCER
LEO | VIRGO | LIBRA | SCORPIO | SAGITARIUS | CAPRICORN |
Leaving The Coop?
Take a minute to Tell a Friend! about us.
Why not bookmark this site for future visits?
Just press CTRL+D on your keyboard.
Yokes Of The Month Mailing List
Join Our Mailing List For A Monthly Feed Of Chicken Jokes!
---
Feathered Friends