Link To Us!
Anti Joke Chicken Meme Generator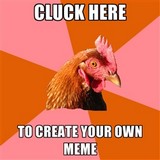 ---
Astrological Signs of the ZodiEgg
(Chicken Horoscopes)
Cancer

CANCER (June 21 to July 22):
While having a tough shell-like exterior, Cancer chickens are very sensitive and vulnerable. They have very delicate emotions, and are always attuned to their environment and the feelings of those around them. They have a constant and urgent need to feel safe and always act defensively. They will only cross the road when there is danger to themselves or others on this side.
AQUARIUS | PISCES | ARIES | TAURUS | GEMINI | CANCER
LEO | VIRGO | LIBRA | SCORPIO | SAGITARIUS | CAPRICORN |
Leaving The Coop?
Take a minute to Tell a Friend! about us.
Why not bookmark this site for future visits?
Just press CTRL+D on your keyboard.
Yokes Of The Month Mailing List
Join Our Mailing List For A Monthly Feed Of Chicken Jokes!
---
Feathered Friends