Link To Us!
Anti Joke Chicken Meme Generator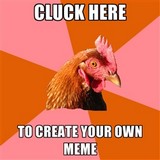 ---
Astrological Signs of the ZodiEgg
(Chicken Horoscopes)
Leo

LEO (July 20 to August 22):
Leo chickens are majestic and proud with personalities that need to shine, and greet opportunities with fervor and vitality. They always need to be in charge. They will cross the road with great enthusiasm for the opportunity to escape a normal, humdrum existence.
AQUARIUS | PISCES | ARIES | TAURUS | GEMINI | CANCER
LEO | VIRGO | LIBRA | SCORPIO | SAGITARIUS | CAPRICORN |
Leaving The Coop?
Take a minute to Tell a Friend! about us.
Why not bookmark this site for future visits?
Just press CTRL+D on your keyboard.
Yokes Of The Month Mailing List
Join Our Mailing List For A Monthly Feed Of Chicken Jokes!
---
Feathered Friends